Hello! And welcome to our humble home! I decided to take part in
BooMama
's Holiday Tour of Homes this year - I hope you enjoy your visit!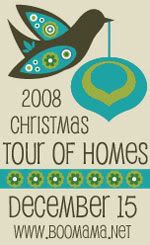 Here's our front door -- I just now noticed from the picture that our lights are falling around the window . . . . nice. Just keeping it real here.
When you walk in the door, here's what you see - our little entry table all decked out for the season.
And here's our 8.5 foot tree, and our mantel all decorated and festive. Luckily,
it only fell once
, and that was when there were no ornaments on it - so far so good!
In case you couldn't tell, I like to keep the JOY in our holidays around here :-)This is from forever ago, I got it somewhere at an after-Christmas sale (the best way to shop!)
Adam's grandmother made us these stockings -- they're not my usual style, but I love them for the time she put into them and for their sentimental value :-)
Now, I'd offer you some refreshments - but Adam and I just polished off our huge can of
hot chocolate mix
, and I'm not much of a cook (ok not at all actually)
However, I do have a FANCY recipe for you (I bring it to every party where I have to bring a dish and everyone loves it) I like to call it "heaven on a chip" (or cheesy corn dip)
Now pay close attention because it's a little tricky:
2 cups shredded Monterrey Jack cheese
2 cups shredded parmesan cheese
2 cans mexicorn
Mix the ingredients with just enough mayonnaise to hold it all together, put it in a casserole dish and pop it in the oven on 350 for 30 minutes -- and voila -- cheesy, corn-y goodness!
And finally, my favorite little addition to our home this year - Jayci, all decked out in her party dress and fancy french hat.
Thanks for coming by! If you haven't yet, head over to
BooMama
's place and enjoy the holiday decor/fun.